From June 7 to June 11.
RightsCon is celebrating 10 years of convening for human rights in the digital age.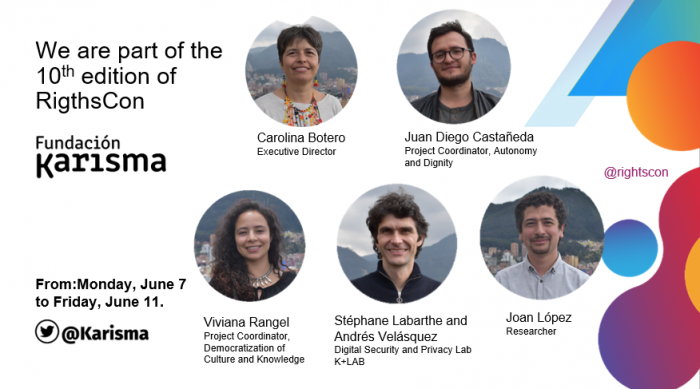 Monday, June 7 | 11:00 A.M. – 12:00 P.M. GMT-5
Upload filters for copyright enforcement take over the world: Connecting the struggles in EU, US& Latin America
The EU has been the first to make #UploadFilters mandatory. Lets talk about this topic with guest from other regions: UK, USA, Latin America. Our director Carolina Botero will be at this session.
Monday, June 7 | 1:30 P.M. – 2:30 P.M. GMT-5
Community Lab. "Ending the war: Moving from an adversarial to a solidarity based digital security approach" This session aims to explore the tension between common digital security approaches and the culture and needs of civil society. Our hope is to dig into the deep soil of this topic to start to plant t he seeds of a shared space of digital security advisement that stands on shared values of freedom, equity and consent. With the participation of Stéphane Labarthe, from our Digital Security and Privacy Lab, K+LAB.
Tuesday, June 8 | 7:00 a.m. – 8:00 a.m. GMT-5 Community discussion, hosted by CiviCERT, Digital Defenders Partnership (DDP); TibCERT; Mnemonic; Fundación Karisma

How to respond to advanced digital threats against civil society? The panel will introduce the work of the Computer Incident Response Center for Civil Society (CiviCERT), sharing information about why and how it came to be, how it works, and how it can provide support to civil society organizations, human rights defenders, activists and journalists facing and experiencing digital security threats. A diverse group of CiviCERT members working in different regions and contexts will share information about their own unique experience as members of the network, also providing – suitably anonymized – case studies to better describe how they serve their beneficiaries. Andrés Velásquez participates at this session.
Tuesday, June 8 | 1:45 P.M. -2:45 P.M. GMT-5
Surveillance pandemic: deployment of COVID monitoring solutions in Latin America The Covid-19 pandemic took on worldwide proportions at the beginning of 2020. The isolation and social distance measures recommended by the World Health Organization and other bodies in the area increased the need to use information and communication technologies, particularly the internet, to carry out the most diverse social activities. The pandemic led to the expansion of technologies into society in everyday life, including with surveillance bias, such as facial recognition. Joan López will be at this session.
Tuesday, June 8 | 3:00 P.M. – 4:00 P.M. GMT-5
The battle against facial recognition in Latin America: how are we doing? In recent years, the private and public use of systems with facial recognition technology has been on the increase in Latin American countries. Several Latin-American organizations have been doing campaigns in their country against the arbitrary and indiscriminate use facial recognition technologies that has been implemented or impulsed by different governments. Each country has common and unique obstacles, and this session encourages such organizations to share the lessons learned that will definitely nurture the work for all organizations throughout the region.
Juan Diego Castañeda´s session.
Thursday, June 10 | 2:30 P.M. – 3:30 P-M. GMT-5
"Let's talk & think strategies to counteract abusive IP content moderation online!" We are looking to collect information from the personal experience or knowledge participants have regarding platform content moderation based on the DMCA, its economic and chilling effects impacts and their particular insight on how to advocate for a better, more agile method to defend legitimate content online. Viviana Rangel participates in this session.
Friday, June 11 | 11:15 A.M. – 12:15 P.M. GMT-5
Lightning talk. "Colombian COVID apps: What not to do! A non intrusive analisis and advocacy work from civil society" Colombian government and some local authorities created smart phone apps to monitor Coronavirus behavior. The most famous is CoronApp_Colombia with more than 10 millions users. K+LAB, the digital security and privacy Lab of Karisma Foundation, made nonintrusive technical analysis to evaluate 4 of those apps. We found privacy risk linked to the use of centralized contact tracing technology and the collection of sensitive personal data. We found critical vulnerabilities in 3 of those. The advocacy work we made with Colombian authorities contributed to solve most of the security vulnerabilities and some privacy issues. You will be guide by Stéphane Labarthe and Andrés Velásquez.
Friday, June 11 | 12:00 P.M. – 1:00 P.M. GMT-5
Copyright: the 'Double-Edged Sword' for Human Rights
Copyright regulation can have benefits, as well as unintended consequences, for free expression and human rights around the world. Propelled by copyright that calls for sharing of source code, open source technology can support human rights investigations. One example is youtube-dl, a popular open source software package that permits users to download videos from places on the web and which enables important reporting and accessibility uses around the world. You will see Viviana Rangel at this session.
Stay tunned to know more details on our sessions
If you missed the registration deadline, there are still plenty of ways you can engage and connect with fellow members of the RightsCon community. RightsCon coverage and engagement will be taking place on Twitter, so be sure to follow the official #RightsCon hashtag to join the discussion. You can also head on over to the Access Now YouTube channel – where the organization will update daily with a selection of fireside chats from across the RightsCon 2021 program.